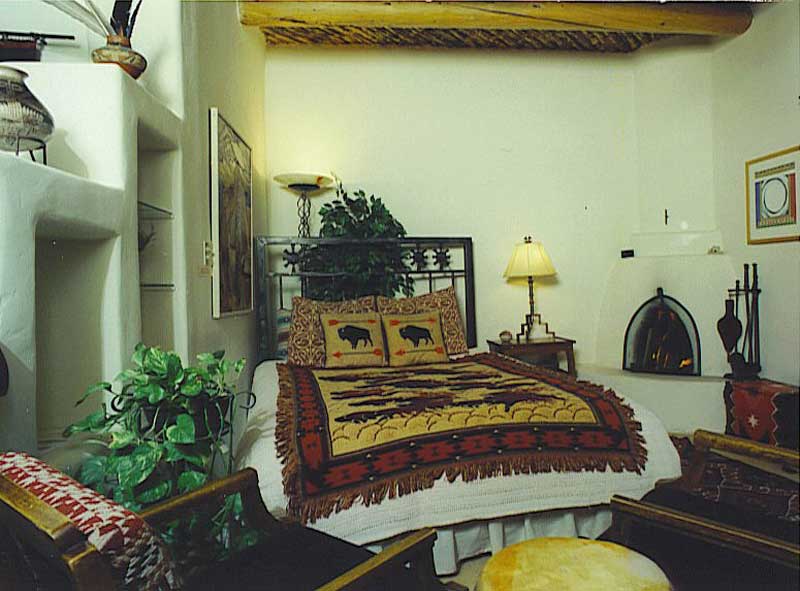 Dora Kaminsky Gaspard is the spirit of this room! It features one of her original works of art and sumptuous textiles which she would have loved. Dora lived in Taos for many years with her husband Leon Gaspard. This room has a fabulous view of Taos Mountain just outside the deck of this cozy southwestern hideaway. The Dora is located on the second floor of Touchstone all way around to the backside. From the old leather saddle to the wood burning fireplace and upstairs wooden deck this room will draw you into the Taos mystique. This room sleeps two with a custom hand crafted queen bed and full luxury bath with RC Gorman tiles. The floor of this room is made of wooden parquet tiles that glow beautifully and the ceiling is made of vigas and latillas in a herringbone pattern. It also has a fridge, microwave, TV, coffee and wine service. This room can be connected to the Frida and makes a perfect suite for families or couples traveling together.
Deluxe Queen:  Current lodging rate is $165.00 for queen bed and $25 for extra person in cot.  Breakfast rate has been separated to reflect a fee of $20 per, which is not taxed and is charged upon booking, if you opt-in for breakfast.  The inclusive rate is $205.00 per night for 2.  Specify in the comments section if you wish to have breakfast and if you have any food allergies. Taxes, processing fee and breakfast is added to each reservation. Two night minimum.
A one night booking is charged the inclusive rate and must be cleared with our office before booking. Weekly rate is $900.00. Monthly rate is $1500.00. Tax,  processing fee, and breakfast  is added to each reservation.
Touchstone is a house with many different rooms available for you to enjoy. Touchstone's living room and dining room are communal spaces open during business hours and by appointment. Enjoy writing a postcard or playing the baby grand. Borrow a book, or enjoy Touchstone's art collection. Sit for a while in front of the fire and let us tell you about the history of the house and our close connection to Mable Dodge and Tony Luhan.
Our Gallery has been called a living watercolor, where the bright light streaming through the skylights and conservatory windows animate the artist's work.
All rooms have a two night minimum and can be booked online.
All rooms at Touchstone have:
Private luxury baths with robes
Down comforters and pillows
TV
Refrigerator and Microwave
Coffee maker with fixings
Hair dryer
Ceiling fan
Wine glasses and openers
Fine art
Wireless internet access (limited – adobe walls are not conducive)
Two acres to roam with a tree-house big enough for a camp-out
Most rooms have private patios and outside entrances. Four rooms have Jacuzzi tubs. Some rooms have traditional, wood burning, Kiva fireplaces as does the Dora room.
We can configure two, three and four room suites for large parties or families. You will enjoy the view of Taos Mountain from the Dora Kaminsky Gaspard, wife of Leon Gaspard.