Touchstone Inn, Taos Lodging Hotel overlooks Historic Taos, New Mexico Pueblo Land
Circa 1800, Touchstone Inn, a Taos lodging facility, is a quiet adobe estate for Taos, New Mexico  Lodging  secluded among tall trees at the edge of Taos Pueblo lands. The grounds have choice views of Taos Mountain on historic Taos Pueblo Lands.  Mature trees, extensive gardens, trickling fountains, and the sound of the Rio Taos Pueblo add to the ambiance of Touchstone. USA Today calls Touchstone Inn "THE place to stay in Taos."
This Historic Taos Inn offers relaxing Taos accommodations on a long term basis as well as nightly rentals.   Breakfast at Touchstone Inn is vegetarian with gluten free with advance notice and is served from 8:30 A.M. to 9:30 A.M.  Our Taos restaurant is available on a Prefix basis by booking ahead by 48 hours.  The Taos spa is an independent entity and offers massage, yoga, facials, and therapeutic baths and wraps.  Guests and residents  enjoy exquisite vistas of Taos Mountain looking out  upon Taos Pueblo lands.  An added bonus is the availability of art studio rentals on a daily or long term basis as well as art classes offered through Touchstone Foundation, 501C-3. Taos Ski valley is 18 miles to the north, Taos Casino is one mile north and Taos Plaza is one mile south of Touchstone Inn, and 2 miles away is Taos Pueblo.
D. H. Lawrence visited this house with his friend Spud Johnson in the 1920's; accordingly, many of the rooms are named after famous Taos Artists and literary figures. The grounds overlook Taos Pueblo lands, and this makes for a quiet stay within a mile of Taos Plaza. Some rooms have fireplaces and all have private baths. The enormous Royale Suite has a second-story private deck that overlooks the Rio Pueblo as it exits the Pueblo lands. This room has a large bathroom with Jacuzzi tub, walk-in double shower, and round skylight over the tub. During business hours and by appointment, residents have access to  the great room, named after Leopold Stokowski, and  the glassed-in patio gallery which looks out over Taos Mountain and Taos, New Mexico Pueblo lands.
Plan to include a visit to Taos Pueblo while at Touchstone, our Boutique Taos Hotel.  We cater to couples for a romantic getaway and elopement packages; we have workshops, weddings and business seminars, and a perfect place for your next family reunion!
Touchstone is considered Medicine land by the Peoples of Taos Pueblo and an exquisite space for Taos lodging and . . .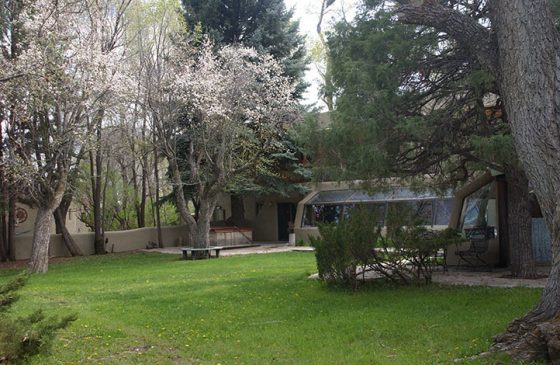 Taos Hotel Accommodations, THE place to stay in Taos, New Mexico_USA Today.