Taos Spa at Touchstone Inn

 Booking for Taos Spa Services is separate from lodging because tax rate is different.

Book services for our Taos Spa online by leaving us detailed notes in the comment section when you book your room at Touchstone Inn.  Or  call 575-758-0192  between 10am and 5 pm Mountain Time to book your Taos Spa services.
The treatment fee is charged on your credit card,  plus tax and processing upon booking therapist for Touchstone Inn,  a Taos Spa.
Taos Spa treatment cancellations must be made 48 hours in advance for refund minus processing fees.  If treatments are canceled with less than 48 hours notice then there is no refund for any and all services booked.
Licensed Massage Therapists as Independent Contractors Serve Touchstone Guests at our Taos spa facility.
Taos Massage
Full Body Massage is designed to gently soften muscles to allow for maximum tension release and deep relaxation.
One hour – $95                                                       
One hour and a half – $130
Heated stone Therapy Add – $20
Foot Care – $75
Facials – $90
Wraps – $150
Vision Quest Sculpture Mask – $100
Shamanistic Healing Services – $90
Detox
Relax and revitalize with a Wrap of your choice. A warm customized botanical mixture is painted on your body. The deep state of relaxation is enhanced with a scalp and face massage – followed by a refreshing shower and full body lotion application. $150
Foot Care
Pamper your feet and allow us to make you feel like you are walking on air!
Soaking / Reflexology Massage – $75
Body Polish & Moisturizing Massage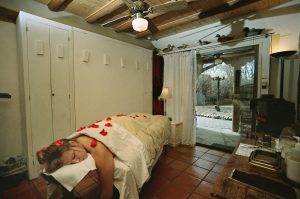 A sea salt and herbal rub is gently applied to refresh and unblock channels of energy throughout your entire body. The dry skin is brushed with this  fine granular mixture which is applied to remove the skin's dull, dry outer layer. The body is then wrapped in a relaxing warm blanket for ten to fifteen minutes to let the pores detox.  After a refreshing shower, a soothing full body lotion application is applied for lasting smoothness! –  $150
Taos Facials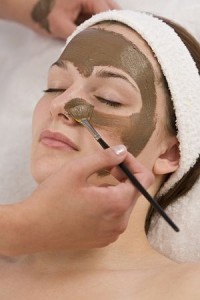 Completely nourishing therapies, each of these treatments will leave your skin beautiful and glowing! All will leave you feeling hydrated and smooth. $90
Earth Walk Medicine
Healing appointments are available 7 days a week starting at 10am. Please allow 1 1/2 to 3 hours for your appointment. Dress in soft comfortable clothing and bring socks to keep your feet warm. $90
The Shamanic healing techniques utilized are imposed to encourage overall wellness and should not replace any mode of existing or suggested traditional medical treatment you may have been prescribed. Shamanic Healing is considered "Spiritual Healing" and is not a medical treatment. No remedies are prescribed. No guaranties of wellness are made.
Earth Walk Medicine, Sacred Ceremonies for Healing and Life Transitions is located on the secluded grounds of Touchstone Inn, on the edge of Taos Pueblo lands along the Rio Pueblo in Taos, New Mexico.  Under the canopy of wind swept trees filled with singing Magpies and Crows one can feel the welcoming blessings of the ancestors of the land while strolling down the path to Earth Walk Medicine.
Reverend Shaman Sandra Chestnutt established Earth Walk Medicine in 2008 after 10 years of successfully helping people alleviate spiritual illnesses with the mystical techniques of shamanic healing initially passed on to her through traditional teachings of a Lakota Medicine Woman and an American-Tibetan Shamanic Priest. "From the Shamanic perspective, people experiencing things like residual effects from trauma or coma, localized pain that lingers mysteriously, feelings of depression or being incomplete, post op disorientation, PTSD, and other experiences of dis-ease in their life, are identified as spiritual illnesses that fester when the cause is not alleviated. Using a variety of ancient mystical techniques, balance and wholeness is restored improving your overall constitution." Besides Healing Ceremonies, Sandra also officiates Life Transition ceremonies such as weddings and memorials.  Learn More
Book Taos Spa Services in Advance to Assure Your Pleasure
Touchstone, Your Taos Spa
***