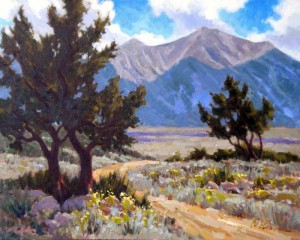 Michael McClure is a well known artist and teacher based in Missouri. His teaching methods will be an enhancement to any level of proficiency.  Bring your own travel easel and oils or acrylics.  When you sign up for the workshop, you will receive a list of things to bring.
Seeking the Spiritual in Nature, a Plein-Air Painting Workshop
"Learn to spontaneously and freely express your love for nature in oils or acrylics. As artists we often hear that there is a right way and wrong way to create a painting. The truth is, there is only your way. The trick is in unlocking your creative potential so that your own inner vision can emerge. I will give you a basic framework upon which to build your art, sort of like laying the foundation for a dream home. Where you take it from there is up to you. This workshop is for those who want to capture some of the beauty of Northern New Mexico in a recognizable, yet highly intuitive and individual style. We will visit some of my favorite locations around the high energy, Taos, New Mexico area. I will give you encouragement and practical advice, based upon more than 30 years of working directly from life." – Michael McClure
Michael McClure is an award-winning painter who has been supporting himself through his art for over 30 years. Combining his love of nature and his passion for art, he was an early outdoor painter, before the term 'plein air' became popular. His highly sought-after paintings are filled with light and color. He is skilled in oils as well as acrylics and watercolors. His teaching style is relaxed and friendly, and he is known for communicating his enthusiasm for painting with a personal touch. Workshops include demonstrations by the instructor as well as detailed information on materials and approaches, and hands-on practice with individually tailored guidance. There will be a slide show on some of the instructors favorite artists with a discussion on what makes successful paintings.
FULL EXPERIENCE
4 Nights Lodging
3 Days of Painting
Arrive       ,  Depart      2017
Workshop Days are:   Dates to be announced
(You may arrange a longer stay at Workshop lodging rate)
– Room Share: $490
– Single Room: $630
ALL McCLURE WORKSHOPS INCLUDE:
Michael McClure Instruction, Workshop Space
Lodging, Breakfast
Refrigerator and Microwave Oven Available
Inn Kitchen is off Limits
Not Included, but can be arranged:  Maid Service, Model Fees, Restaurant Meals & Drinks
Some materials Available, Fees and Field Trips are assessed by Michael as they happen and are Charged Separately by Michael Mc Clure
Full Payment Due Upon Booking; Space is Limited.
Must Call or email to Reserve Space ASAP:
575-770-3246 or 575-779-1174
Must Call or email for Price Adjustment for Non-Participants
Room Placement is done by Inn
Full Payment is Due upon Booking
Methods of Payment: M/C, VISA
Direct Deposit or Check made to simply: TOUCHSTONE
Mail to: P O Box 1885, Taos, NM 87571
http://www.touchstoneinn.com
Deposit May be Transferred in case of Medical Emergency, But is Non-Refundable; Trip Insurance is Advised.
touchstoneinn@gmail.com