Touchstone Inn is a Taos Hotel Treasure
Touchstone Inn is a historic adobe home, circa 1800, bordering Taos Pueblo Lands and is a favorite destination for Taos lodging and Taos Hotel Accommodations. We have guest rooms available on a long-term basis or as nightly rentals to suit your personal taste with by reservation vegetarian  gluten-free breakfast available when scheduled in advance. Our living room and dining room are communal spaces enjoyed by our residents and guests during business hours.  Take pleasure in writing a postcard or playing the baby grand. Borrow a book, or enjoy Touchstone Inn's art collection which is superb.  Sit for a while in front of the fire and let us tell you about the history of the house and our close connection to Mabel Dodge and Tony Luhan.
All rooms have an on-suite bath each with unique tile-work; those pictured above feature the work of R C Gorman, a Taos icon.
Taos lodging guests find the Gallery at Touchstone unique; it houses Bren Price's work (one of the youngest members of the Taos Masters, a Taos Icon, and a founder of the Taos Artists Organization)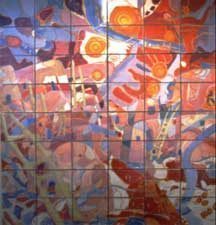 and has been called a living watercolor, where the bright light streaming through the skylights and conservatory windows animate the artist's work at our boutique hotel and a preferred destination for those seeking a true Taos experience.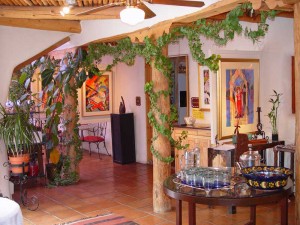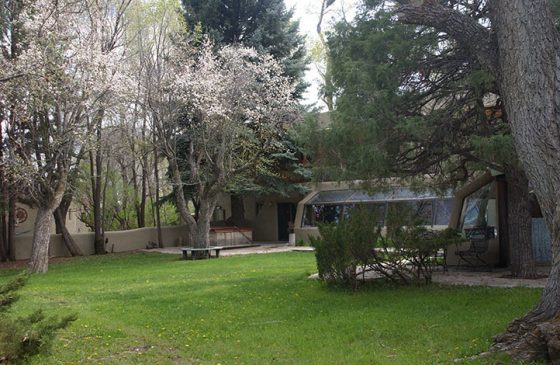 The grounds are available for you to roam; we have just under two acres of land and our property backs up to Taos Pueblo lands with sweeping views of Taos Mountain, close to everything Taos. Enjoy the peaceful views from our tree house or enjoy picking apples when they are in season.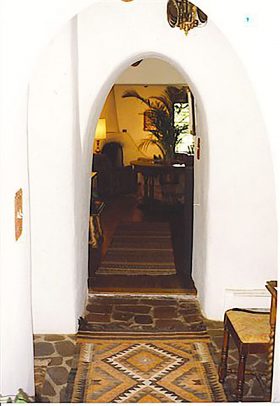 We serve breakfast and dinner by reservation of 48 hour in advance with a Prefix menu.
All Taos lodging rooms at Touchstone Inn  have a two night minimum and can be booked online, long term rentals as well as short term accommodations:
Touchstone, our Boutique  Hotel is a Must Stay for Taos lodging!