Touchstone Inn Taos Bed and Breakfast
is a beautiful and welcoming property. We offer eight well appointed and lovely rooms for you to book your stay with us at our Taos bed and breakfast. We have an extensive art collection throughout Touchstone Inn. Our communal spaces are the great room named after Leopold Stokowski, a private dining room and the  gallery. Enjoy writing a postcard or playing the baby grand in the great room. Borrow a book and enjoy [...] Touchstone Inn's art collection.  Sit for a while in front of the fireplace and let us tell you about the history of the house and our close connection to Mable Dodge and Tony Luhan. Roam our property and seek out our secret gardens of our Taos bed and breakfast  – we have almost two acres of land for you to enjoy. At Touchstone Inn, we have many fountains that create the soothing sound of bubbling water along with the ever present Rio Pueblo which runs along the south edge of Touchstone Inn.
The Gallery at Touchstone has been called a living watercolor, where the bright light streaming through the skylights and conservatory windows animate the artist's work;  gourmet dinners and vegetarian, gluten free breakfasts are as inventive as the decor.
All rooms have a two night minimum and can be booked online – see descriptions below,  book dinner 48 hours in advance with Prefix menu.   Call us about one night bookings at Touchstone Inn, 575-758-0192.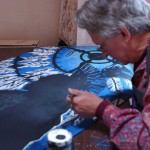 Studios are well lite, have running water, microwave, and refrigerator. Each space features a raised 3×6 worktable, side table, set of drawers, trash can, and chair and / or stool. Also available are a large paper cutter, small paper cutter, and Cricket Cutter for scrap booking. Individual Studio Space may be reserved by the day – 9Am to 5PM for $40 a day, or by the hour at $5 per for a specified time. Book online with your room in the comments section or call us and we will be happy to set up your studio...
read more