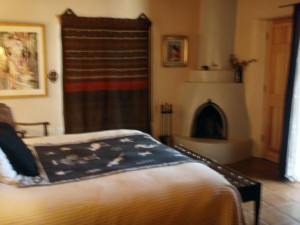 We adore this ground level suite and so would have D. H. Lawrence! This is a lovely room with a king sized bed and wood burning fireplace. Enjoy the oval Jacuzzi tub with shower big enough for two. There are also his and her sinks with a refrigerator and microwave. This room has a private ground floor entrance and patio.  It is ideal for a lovely romantic getaway. It can sleep three — there is a twin bed in the separate small room.
King:  Current lodging rate is $155.00 per night. There is a $25 fee per night for an additional person.  Breakfast rate has been separated to reflect a fee of $20 per, which is not taxed and is charged upon booking, unless you specifically opt out of breakfast at the time of booking.  The inclusive rate is $195.00 per night for 2.  Specify in the comments section if you do not wish to have breakfast and if you have any food allergies. Taxes, processing fee and breakfast is added to each reservation. Two night minimum.
A one night booking is charged the regular lodging rate and must be cleared with our office before booking. The weekly rate is $900.00. The monthly rate is $1500.00. The inclusive  holiday rate is $195.00 per night.
Touchstone is a house with many different rooms available for you to enjoy. Touchstone's living room and dining room are communal spaces. Enjoy writing a postcard or playing the baby grand. Borrow a book, or enjoy Touchstone's art collection. Sit for a while in front of the fire and let us tell you about the history of the house and our close connection to Mable Dodge and Tony Luhan.
Our Gallery has been called a living watercolor, where the bright light streaming through the skylights and conservatory windows animate the artist's work.
All rooms have a two night minimum and can be booked online.
All rooms at Touchstone have:
Private luxury baths with robes
Down comforters and pillows
TV/VCR/HBO
Tape/CD player
Coffee maker with fixings
Hair dryer
Ceiling fan
Wine glasses and openers
Fine art
Wireless internet access
Two acres to roam
Most rooms have private patios and outside entrances. Four rooms have Jacuzzi tubs. Some rooms have traditional, wood burning, Kiva fireplaces. Microwave and refrigerator available in most rooms.
We can configure two, three and four room suites for large parties or families.
We can configure two, three and four room suites for large parties or families. You will especially love the newly remodeled room named after D. H. Lawrence.